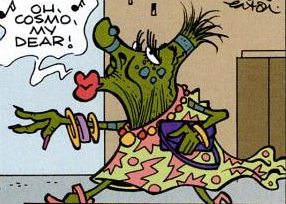 Stella von Radiance is arguably the most beautiful actress in the Milky Way galaxy, with foot-long lips and nose, foot-tall hairdo, forest green skin, and gaudy jewelry.  She works for Interstellar Pictures and enjoys a "small" on-and-off relationship with their head talent scout Cosmo Rayye.
Ad blocker interference detected!
Wikia is a free-to-use site that makes money from advertising. We have a modified experience for viewers using ad blockers

Wikia is not accessible if you've made further modifications. Remove the custom ad blocker rule(s) and the page will load as expected.