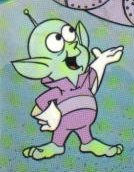 XK-4 was an X-ian from Planet X and a Surveyor Grade Four. When the Imperial Council deemed planet Earth suitable for invasion, he was sent to take two Earthlings back for study and chose the infants Pebbles Flintstone and Bamm-Bamm Rubble. He reported on their astounding progress in the tests and was ordered to send them through the Forbidden Zone, but felt guilty afterwards and went to rescue them. He discovered the Free People but couldn't tell anyone about them without getting in trouble for going there in the first place.
Ad blocker interference detected!
Wikia is a free-to-use site that makes money from advertising. We have a modified experience for viewers using ad blockers

Wikia is not accessible if you've made further modifications. Remove the custom ad blocker rule(s) and the page will load as expected.